Bushcraft Leather Sheath
A sturdy leather dangler sheath made to fit multiple TOPS Knives models.
Description
Details
This bushcraft leather sheath is made of thick, high-quality American steerhide. It is a single piece, fold-over design with a welt that is double-stitched. There is a d-ring and belt loop with two straps making it a dangler sheath. Includes the TOPS 3 barrel emergency fire starter in the built-in loop. Available in Black or Brown leather.
ATTENTION: The left handed version is made-to-order and will take 3-5 weeks for processing.
The Bushcraft Sheath fits several different TOPS Knives:
Fieldcraft by B.O.B.
HOG 4.5
D Fly 4.5
Mohawk Hunter
Shango XL
Spirit Hunter.
Specs
Specs
| | |
| --- | --- |
| Sheath Material | Black Leather |
| Sheath Color | Black |
| Sheath Clip | Dangler |
Reviews
Customer Reviews (1)
Great sheath at a great price

Bought a Tops B.O.B a couple of months ago and love the knife as iv used it during multiple hunting trips and processed several deer. The original sheath it came with is great quality but being left handed I tried several different ways to rig it to my hand. After several attempts I started doing research on different sheaths from different makers. I choose to go with this sheath and I could not be happier. The processing and shipping was way faster then the original 3 to 5 weeks estimated time, receiving it within less then 10 days of placing the order. Iv bought sheaths from other high end makers and in all honesty I'm just as pleased if not happier with this one. Very pleased from start to finish and will be a returning customer for many years to come.

(Posted on 12/24/2020)
You may also be interested in: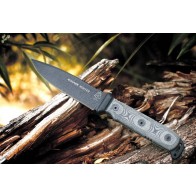 Mohawk Hunter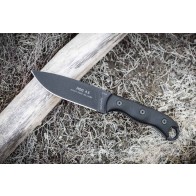 HOG 4.5