D Fly 4.5
Straight Out of the Canadian Wilderness
An excellent, lightweight bushcraft blade.
Availability: Available To Order
Description
Details
Caleb Musgrave is a wilderness skills instructor of the Mississauga Ojibway Nation in Ontario Canada. Caleb has traveled across much of Canada and the eastern United States and has received training from some of Canada's best survival instructors, including countless Native elders. Caleb has spent three-quarters of his life enveloped in bushcraft. Caleb currently lives in his home community, the Mississaugas of Rice Lake, where he has run the wilderness school Canadian Bushcraft since 2008. His straight-shooting style of education, mixed with his wry sense of humor has made him a fan favorite amongst his students and colleagues.
The D Fly 4.5 Knife:
In Canada, carrying a combination of axe, saw, and knife is far more common than carrying just one large blade. This frees the knife to be much smaller and far more nimble since the large chopping and processing jobs are left to the other tools. A bushcraft knife must be light enough for fine detailed carving tasks (making netting needles, friction fire kits, and the like), while being functional enough to be able to skin and process both small and large game animals, from mouse to moose so to speak. However, that nimbleness must be matched against unfailing strength. Fall through the ice of a frozen lake with no one around? The knife must be strong enough to be an anchor for you while you save yourself.
With all of these requirements, it's great to know that the D Fly 4.5 Knife fits the bill! Caleb spent the last seven years slowly breaking down (literally) every knife he owned and deciding what he did and did not like. The D Fly 4.5 Knife is an amalgamation of everything that has passed Mr. Musgrave's scrutiny. Though the blade may bear some resemblance to other bushcraft knives (he wasn't trying to reinvent the wheel) it is the numerous, subtle, tactile differences that set this blade apart.
With a 4 1/2" long, 1/8" thick bead-blasted blade, the knife is definitely not too long, nor weak. In fact, with an overall length of 9 3/4", this knife is sleek and sturdy. With no epoxy coating on the blade, the 1095 high carbon steel is fully exposed to allow the woods wanderer the ability to strike a spark effortlessly- whether with a ferro-rod, or a shard of flint. With its contoured handle made of black canvas micarta and white liners, the D Fly 4.5 matches, comfort and utility with beauty and art. The handle is very slim (3/4" at the palm swell), but fits perfectly in a big meaty hand or in the mitt of a youth first learning woodskills. These little points of detail, borne of experience and calloused hands, qualify the D Fly 4.5 as the long-awaited Official Canadian Bushcraft Knife. Carried in its rugged TOPS' quality Ballistic Nylon sheath, the D Fly 4.5 Knife is a great bushcraft companion and will be by your side, even after years of use and abuse, that is, until it is passed down as an heirloom to the next generation of buscrafters.
Specs
Specs
| | |
| --- | --- |
| Knife Type | Fixed Blade |
| Overall Length | 9.75" |
| Blade Length | 4.50" |
| Blade Thickness | 0.130" |
| Blade Shape | Hunters Point |
| Blade Steel | 1095 RC 56-58 |
| Blade Finish | Bead Blast Finish |
| Handle Material | Black Canvas Micarta |
| Sheath Included | Yes |
| Sheath Material | Black Leather |
| Sheath Clip | Dangler |
| Designer | Caleb Musgrave |
Reviews
Customer Reviews (1)
"Top" knot has field knife

I have had mine for two years know and used it for camping, hiking and hunting. I've used it in the kitchen on tomatoes to frozen meat. The edge is outstanding. I've only had to use a strop to keep it at a nice razor edge. I whittle as a hobby and have used it to make some 6" totem poles for my kids. Easily one of my favorites around the camp fire whittling while telling cowboy stories to the kiddos.

(Posted on 1/6/2018)
You may also be interested in: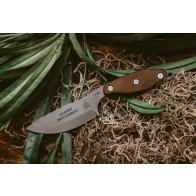 Scandi Woodsman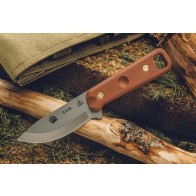 C.U.B.