Shadow Rider
Drifting In And Out Of The Shadows
This finely-designed knife is a rugged, lightweight knife with a low profile and outline.
Availability: Available To Order
Description
Details
This finely-designed knife is rugged and lightweight with a low profile and outline.
The blade is contoured for a variety of outdoor uses and for concealed carry. At 1/8" thick, it's light enough for weight conscious backpackers and nimble enough for hunters. Bikers, off-roaders, campers, and many others will also find it extremely useful.
The Rocky Mountain Tread handles give a superior grip, even in wet conditions. Use it to prepare a fire, make snares, skin and process game, build a small shelter, and for any other camp chores including food prep. The Shadow Rider makes an ideal addition to a Bug-Out-Bag, 72-hour kit, or for light pack trips. It feels great in the hand, and it's easy to work with.
Specs
Specs
| | |
| --- | --- |
| Knife Type | Fixed Blade |
| Overall Length | 7.75" |
| Blade Length | 3.25" |
| Blade Thickness | 0.130" |
| Blade Steel | 1095 RC 56-58 |
| Blade Finish | Black Traction Coating |
| Handle Material | Tan Canvas Micarta |
| Handle Style | Rocky Mountain Tread |
| Sheath Included | Yes |
| Sheath Material | Black Kydex |
| Sheath Clip | Rotating Spring Steel |
| Designer | TOPS Team |
Reviews
You may also be interested in: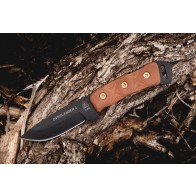 Overlander 2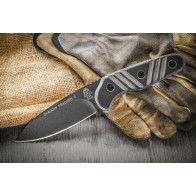 Shadow Tracker 2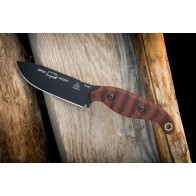 Viper Scout Red