Steel Eagle 107D
Tough men temper like steel. They learn to endure.
SPECIAL OPS TRUST TOPS... CAUSE THEY'RE HARD TO THE CORE!
Availability: Available To Order
Description
Details
The Steel Eagle 107D is literally the knife that started it all. It was the first model ever created by TOPS. Over many continual years in the field, in every terrain and in all conditions, the Steel Eagle 107D has proven its strength, durability, versatility and dependability within the Special Operations community and with civilians as well. The Steel Eagle 107D is a quarter inch thick 7 inch blade that is formidable to its foes, and it continues to be a favorite personal carry choice of the quiet professionals.
Special Ops trust TOPS... 'Cause they're hard to the core!
Specs
Specs
| | |
| --- | --- |
| Knife Type | Fixed Blade |
| Overall Length | 13.00" |
| Blade Length | 7.50" |
| Cutting Edge | 7.00" |
| Blade Thickness | 0.250" |
| Blade Shape | Tanto Point |
| Blade Steel | 1095 RC 56-58 |
| Blade Finish | Black Traction Coating |
| Handle Material | Black Linen Micarta |
| Knife Weight | 22 oz |
| Sheath Included | Yes |
| Sheath Material | Black Ballistic Nylon |
| Sheath Clip | Molle Backing |
| Designer | TOPS Team |
Reviews
Customer Reviews (2)
Awesome knife

I was going to buy a Kay-bar because I've owned one and like them a lot. I have to say I'm super pumped to show this knife off and put it to the test, and am going to show my uncle that's in the Marines to see how he thinks of it he's owned nothing but Kay-bars. I think he might be ordering one from Tops once he sees this lol. I'll write another review after I use it for a while and let you know what the Gunny thinks. I found a new knife company. Tops should make different types of handle's so you can swap out maybe they will one day sure they could make one and a kydex sheath would be cool also later down the road. Thanks Tops for the awesome bad a$$ knife.

(Posted on 7/13/2019)

Very happy with my purchase

I recently purchased this knife from the website to replace a budget knife I bought from a local Walmart. I wanted something that would last me a lifetime and stand up to the abuse of survival in the outdoors. I am very pleased with my knife purchase. I had to wait two weeks after I ordered it online but it was worth the wait. This knife is a beast, it fits my hand very well and it's balanced. It's made in the USA too which is important to me. The only thing I didn't like was the velcro on the straps instead of a metal button. Other than that it's a rock solid knife and you'll be glad you bought it.

(Posted on 6/3/2019)
You may also be interested in: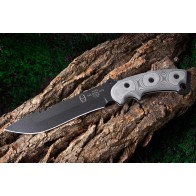 Anaconda 7B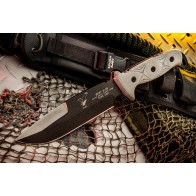 B.E.S.T. Black Eagle Strike Team