Steel Eagle 107E
Tough men temper like steel. They learn to endure.
SPECIAL OPS TRUST TOPS... CAUSE THEY'RE HARD TO THE CORE!
Availability: Available To Order
Description
Details
Where did TOPS get its start? The Steel Eagle series of knives were the first models ever created by TOPS. Over many continual years in the field, in every terrain and in all conditions, the Steel Eagles have proven their strength, durability, versatility and dependability within the Special Operations community and with civilians as well. The Steel Eagle 107E is a quarter inch thick 7 inch blade for those who prefer to have theirs without the saw back, and it continues to be a favorite personal carry choice of the quiet professionals.
Special Ops trust TOPS... 'Cause they're hard to the core!!
Specs
Specs
| | |
| --- | --- |
| Knife Type | Fixed Blade |
| Overall Length | 13.00" |
| Blade Length | 7.50" |
| Cutting Edge | 7.00" |
| Blade Thickness | 0.250" |
| Blade Shape | Hunters Point |
| Blade Steel | 1095 RC 56-58 |
| Blade Finish | Black Traction Coating |
| Handle Material | Black Linen Micarta |
| Weight w/ Sheath | 22 oz |
| Sheath Included | Yes |
| Sheath Material | Black Ballistic Nylon |
| Sheath Clip | Molle Backing |
| Designer | TOPS Team |
Reviews
You may also be interested in: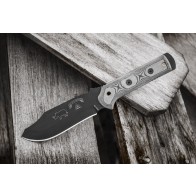 Black Rhino
Firestrike 45