Tex Creek 69
When it's time to go and get some!
A tribute to the men and women who hunt and fish in the Tex Creek area of Southeast Idaho.

Please Note: We are in the process of updating the finish color that we use for our tan blades. The color that you receive may not match the color you see here on our website.
Availability: Available To Order
Description
Details
Tex Creek is a 34,000 acre wildlife management area which includes 2 national forests (Tex Creek is unit number 69 on the Idaho Fish and Game hunting maps). It is home to an abundance of diverse wildlife and is accessible starting about 10 miles from the TOPS facility. Open range, high rugged mountains, waterways and large forests provide the hunter and fisherman a variety of terrain to acquire elk, bear, mountain lion, wolf, moose, mule deer, pheasant, turkey, quail, rabbit, duck, goose, steelhead and salmon. The fact that this area is so close to our facility enables us to field test in our own backyard. Since many of our staff grew up in this setting, they have ample opportunity to evaluate the use of our knives/tools under adverse and diverse conditions.
It's a great example of a high-quality, good-looking, work knife. It has a Coyote Tan Powder coat and comes with a quality brown leather sheath. The handles are designed and built for a comfortable grip even after extended periods of use, and with our Rocky Mountain Bull's-eye handle scales, you'll have a solid purchase too. This is only our 2nd knife model to be offered with this new grip pattern. Whether you choose the the original Tex Creek, the Tex Creek XL, or the Tex Creek 69, rest assured that you have made a great choice.
Our VP, Leo Espinoza, originally designed this knife for himself. It was going to be his hunting knife for the season. It ended up being such a great design that we had to turn it into a production model. The Tex Creek 69, therefore, is a tribute to the men and women who hunt and fish in the Tex Creek area of Southeast Idaho.
Specs
Specs
| | |
| --- | --- |
| Knife Type | Fixed Blade |
| Overall Length | 9.00" |
| Blade Length | 4.19" |
| Blade Thickness | 0.190" |
| Blade Shape | Hunters Point |
| Blade Steel | 1095 RC 56-58 |
| Blade Finish | Coyote Tan Coating |
| Handle Material | Tan Canvas Micarta |
| Handle Style | Rocky Mountain Bull's-eye |
| Knife Weight | 7.4oz |
| Weight w/ Sheath | 9.5oz |
| Sheath Included | Yes |
| Sheath Material | Brown Leather |
| Sheath Clip | Belt Loop |
| Designer | Leo Espinoza |
Reviews
Customer Reviews (1)
Fantastic knife

I took my newly purchased Tex Creek 69 out to the woods recently. This knife handled everything I threw at it. The blade bites hard and the handle was very comfortable. This is going to be my new camp knife.

(Posted on 7/16/2018)
You may also be interested in: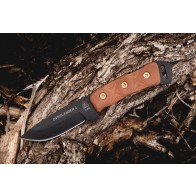 Overlander 2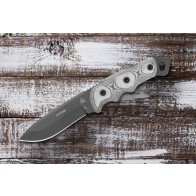 Cochise